Something's sizzlin'
It's the usual ice-breaker on any Monday (or Sunday, if you work in this part of the world):
How was your weekend/how did you spend your weekend?
When I used to work in an office (which wasn't so long ago) I hated the question to no end, mainly because (1) I didn't do anything in the weekend that's interesting enough to use as a 15-second pantry soundbite, (2) there are only so many times you can use "nothing much"/"surf the internet"/"plan my wedding" as an answer, (3) I didn't want people to think my lack of exciting activity in the weekend is a possible suggestion of who I am as a person (probably is though).
And when I did do something interesting, which is extremely rare of course, no one would ask me on that Monday which made me a very sad panda indeed.
Eventually I figured out that if I behave like I was heavily down with the Monday blues (which is everyone, just how much one decides to show it on his/her face) people would generally just avoid me like the plague, so hooray, no need for idle chit chat by the water dispenser. No need to admit to having accomplished nothing, not eaten something exotic, not watched the latest blockbuster, during the weekend. I can be social Tuesday to Thursday, until Friday when some bugger decides to ask "what are your plans for the weekend?"
***
In our 4th month here now, we have firmly gotten used to the fact that weekends here are Friday and Saturday. We have things like "Friday brunch" and "Saturday roast", and for people like us who live in Abu Dhabi, there is a natural gravitation to drive the 100 miles to our sexier sister city of Dubai, and indeed, it is practically THE to-do on an Abu Dhabian? Dhabite? weekend.
Frankly, I have lost count of how many times we've been there (yes, already). And as if the Dubai store sells any differently, we have even been to Dubai's IKEA. We've been there on staycation, sat on the Metro to nowhere, outlet shopping, been to a mall that is so big that you need a buggy to get from one end to the other, uncovered a few gems of restaurants, and, on a Saturday night drive back to AD, watched with scary fascination as cars on the E11 highway weaved from one lane to another all exceeding the speed limit by at least 20km/h, tailgating each other to either intimidate the other to move or go faster. (We stayed respectfully at the fourth lane where the drivers did not really want to go home THAT quickly.)
I guess it's safe to say we are no longer strangers there.
Sure enough, in the frenzied weeks in June and July when shopping for the house was top priority, every weekend was an opportunity to make the 1.5 hour drive to find the next furniture store that we might have missed (and then some). And with the house becoming less of a empty cavern these days, there is one less reason to make the trip, and.. perhaps the allure has dimmed just a bit?
We stayed firmly in Abu Dhabi
soil
sand this weekend and the spent the Friday exploring bits of the city that we haven't yet been to and this is after I prevented the husband from attempting to drive 3 hours into the desert with only a 500ml bottle of water in hand (SERIOUS). While I'm not a Korean food person we did go to a Korean restaurant that served up pretty authentic fare to a what I suspect is a band of faithful following. Bonus points for not chasing us out after we got glued to an episode of Korean drama on their TV screen!
Saturday was spent even more mundanely as we did our weekly grocery run. In true old married couple fashion, we found ourselves immeasurably gleeful after we got our faulty rice cooker refunded, no questions asked, which broke down within 2 months of irregular use - we actually laughed to ourselves in the car on the 5 minute drive home.
Weekends usually mean we either eat out at wherever we find ourselves to be or if we are at home, Kyle wants to cook, and on this unremarkable weekend we experienced
one of the perks of living away from our parents - the freedom to eat whatever the hell we want and whenever we please
, so why not burgers for dinner?! :D
Gourmet shrimp burgers to be precise, with the ingredients - shrimps (or prawns if you like), onions and bell peppers - first pulverized by blender, shaped by hand and lastly grilled.
Summer time is grillin' time. We just need to pretend we are outdoors.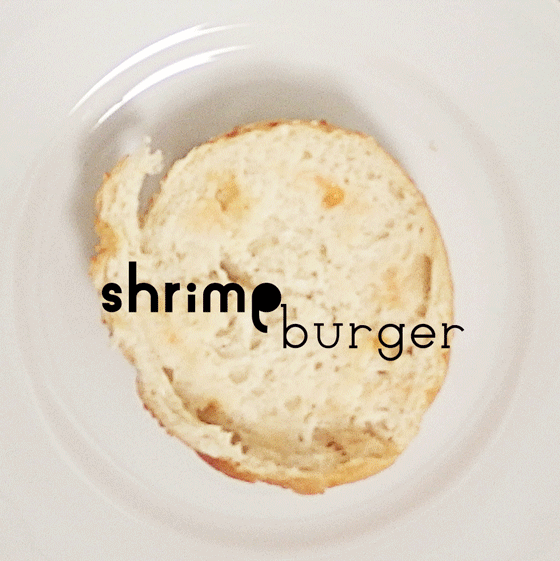 Because an animated gif is probably the only good way to showcase the assembly of the burger...
We didn't want a a whole head of lettuce with nowhere to go after using a couple of leaves for the burger, so lettuce was out of the window. Yay for me since I hate lettuce, seriously why even bother cooking if we can't remove what we don't like...
I prefer to eat the bread and tomato up first so I can eat the patty in all of its original glory - like a poor man's crab cake.
The next logical step? Replicate MOS Burger's Ebi rice burger!